Bukh Aron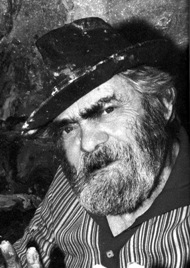 Aron Bukh (1923 – 2006)
Born in Berdychiv, Zhytomyr region of the Ukrainian SSR. Died in Moscow.

Educated in the Moscow Artistic Education House for Soviet Region Children (1937–1941), worked in the All-Union Central Council of Trade Unions studio of Konstantin Yuon (1944–1945).
Graduated from the Moscow Regional College of Fine Art (nowadays the Moscow State Academic Art College in Memory of the 1905 Revolution) (1947).
Member of the Artists' Union of the USSR (1959).

The artist's works are held at the State Russian Museum, the Moscow Museum of Modern Art, etc.
The artist's works have been in the Allrus Gallery's collection since 2010.





See all the paintings of the painter